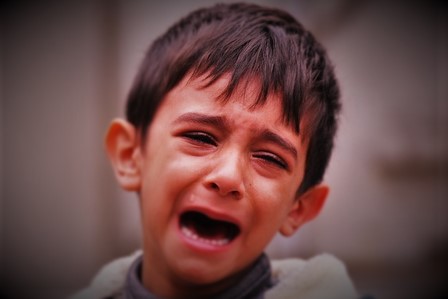 Children's tantrums are hard to deal with, no matter where and when they happen. It is stressful for both the child and the parents. In Part 1, we talked about some tools to help your child avoid tantrums, and remain calm. As good as these tools may be, life is unpredictable and tantrums can happen. There may be a time that even the best of planning and communication may not be enough to calm your child, such is life! At these times, understanding the tantrum can be more helpful.
In this part we provide some tools for managing a meltdown, and things to do, when all the great parenting in the world is not enough to stop a meltdown.
Steps to deal with a meltdowns:
• Do not take it personally, do not worry about what others may be thinking about.
• Don't try to reason with, or get into a power struggle with your child. During a tantrum or during highly intensive emotional states, conversation is futile, and will most likely make matters worse.
• Let them air-it-out, as long as you can make sure that they are safe, sometimes it may be helpful to just let them get their frustration out by venting.
• Be prepared to leave and take care of your child's needs. Sometimes getting away from the scene of the tantrum may be enough to snap them out of the emotional space.
• Try to take a short break, go to the car and see what may be wrong.
• Just a hug. Children can become overstimulated in certain situations, and the tantrum itself can aggravate this feelings. Holding your child, in a firm, soothing embrace can at times be enough to calm their over-stimulated nerves.
• Model. As frustrating and nerve wracking as dealing with tantrums are, remember that you are always a model of behavior for your child, and teaching by example is one of the most powerful tools in your arsenal. Keeping your cool, as you help your child work through their frustration can help show appropriate ways of dealing with frustration.
Remember, as stressful as a tantrum is, it is also a great opportunity for teaching your child to learn patience and self-regulation. Teaching your children healthy and effective ways of handling their frustration, and learn how to self-regulate and gain self-control is a useful life-long skill, and important for success in later life.
If you need more help, please feel free to contact me, Dr. Ziba Saatchian @ 818-275-0136, for a 15 minute free consultation.
About Dr. Ziba Saatchian
Ziba Saatchian, PsyD (PSY28882) is a licensed psychologist in private practice.Dr. Ziba Saatchian specializes in working with children, adolescents and their families, as well as individuals struggling with depression, anxiety and childhood trauma.
Categories: None